Hasta la vista! (with a Spanish menu full of passion)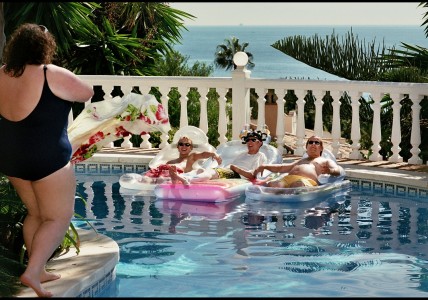 Hasta la vista!
Section: Film Flavour
Belgium / 2011 / 115 min.
Director: Geoffrey Enthoven
Cast: Robrecht Vanden Thoren, Gilles De Schrijver, Tom Audenaert, Isabelle de Hertogh
Dutch with Czech subtitles
Contact: AČFK

This is a Film Flavour Screening, a projection of a film combined with a three-course-dinner.
Philip, Lars, and Joseph are three young men in their twenties who love wine and women, but who are still virgins. Under the pretense of participating in a wine tasting, they travel to Spain, dreaming of experiencing their first sexual adventure. Nothing can stop them — not even their physical handicaps: one of them is blind, the other is in a wheelchair, and the third one is totally paralyzed.
Awards: IFF Alpe d´Huez 2012: Audience Award; IFF San Jose 2012: Best Film; European Film Prizee 2012: Audience Award; IFF Karlovy vary 2012: Audience Award; IFF Montréal 2011: Grand Prize of America, Most popular film, Ecumenical Jury Award –  Special Mention; IFF Valladolid 2011: Best film, Young Jury Award.
Unique experience of Cinema Cuisine will be brought to you by "Menu domů", an apartament and pup-up restaurant UKOKO, in co-operation with Premiere Wines & Spirits and Sabores.
The three-course-menu full of taste of the passionate Spanin, will be prepared by Veronika "Koko" Kokešová, the most popular Czech food blogger of 2013 and 2014.
Program
| | | | | |
| --- | --- | --- | --- | --- |
| Royal (Praha) | Buy | Thu | 16.4. | 19:00 |